I'm John Ledwon, a professional theatre organist living in Henderson, Nevada.
Enter and know me better…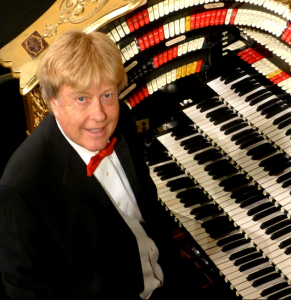 A native Southern Californian, John Ledwon first met the theatre organ when he was 11. His parents, recognizing his extraordinary talent, obtained a Hammond B3 (now considered THE 'jazz organ' sound) for him, and he has been studying, performing and restoring theatre organs ever since. At 14, John started playing weddings at a Southern California Wedding Chapel, this eventually led to his playing more than 20,000 weddings there. At age 16 he became the organist for the Al Malaikah Shrine Auditorium playing their 4/71 Moller concert/theatre organ. At the same venue he was organist for the Radio City Music Hall Christmas Spectacular when it came for two seasons to Los Angeles. John was also a regular on the Mike Douglas Television Show for 26 weeks.
John majored in organ and theatre arts at UCLA., graduating at 20, While a student in college he traveled extensively throughout America and Europe as a concert artist. After enrolling in graduate school at UCLA he was invited to do a 4-month USO tour of Alaska and Asia. For three years he had had his own weekly radio show, performing on the large 4 manual 61 rank Robert Morton Theatre/Concert organ in the old Elks Temple in Los Angeles. Taking a 20-year hiatus from the concert circuit to pursue his teaching high school career he also served both as national president of the American Theatre Organ Society and several terms on the board of directors of ATOS. John also taught theatre organ classes at the college level using the Wurlitzer installed in Pasadena City College.
In 2000 John left teaching to become, and has remained for over 22 years, a staff organist at the Walt Disney Company's El Capitan Theatre in Hollywood. The position and experience garnered there has enabled him to perform and tailor his own arrangements and performance of Disney music to younger audiences.
He now lives in Henderson, Nevada, where he has installed a 3 manual 15 rank Wurlitzer while maintaining a concert schedule including his position at the El Capitan plus regular touring which include performances in New York City, Chicago, Syracuse, Rochester, Kansas City, Denver, Los Angeles, San Francisco, Spokane, Tulsa, Binghamton. He has also performed in Sydney, Auckland, Perth, Adelaide, London, Zurich, Interlocken and Hamburg.
During the COVID lockdown John became decided that inactivity wasn't his game and recorded a new CD emphasizing more contemporary music. Between performances, practicing, and assisting Theatre Organ groups around the country, John continues to lead an extremely active life being home probably only half the time, much to the distress of his feline friend, Athena. He remains dedicated to introducing the theatre organ to younger audiences and pairing the music performed to their era though the use of contemporary theatrical techniques and musical selections using bright, brassy vibrant arrangements.

John Ledwon
Photo gallery of goodies from John's past can be found HERE!